POLICIES &FRE
QUENTLY
ASKED
QUES
TIONS
Social media posts should no reveal any information that compromises LDC. Students and parents should not share personal information about the director, staff, students and/or their families or any proprietary and/or confidential information is strictly prohibited.
​
Students and parents should neither claim nor imply that they are speaking on behalf of LDC.
​
Use discretion when posting pictures, including those of other students at LDC. Identifying information of any featured minors – including names, ages or location – must be removed when posting on Social Media
​
Never post anything that could compromise self-esteem of students attending LDC.
​
LDC owns the copyright to all choreography presented at the school. Dancers should request approval from the choreographer before posting videos to social media.
​
Intellectual property laws must be observed by all studio patrons when posting online. This includes but not limited to choreography, costume design, music mixes, manuals, forms, handbooks, and syllabus, etc.


​
Respect the law, including those laws governing defamation, discrimination, harassment, copyright and fair use. Parents and students should never post negative comments about other schools, teachers, or events, including competitions, conventions and performances. We have an open door policy and encourage all communication, complaints and feedback to be communicated to the principal directly.


Our Commitment to Privacy:
Your privacy is important to us. To better protect your privacy we provide this notice explaining our online information practices and the choices you can make about the way your information is collected and used. To make this notice easy to find, we make it available on our webpage and at every point where personally identifiable information may be requested.
​
The Information We Collect:
This notice applies to all information collected or submitted on the Lonestar Dance Center website. These types of personal information are collected at online registration: Name, Email address, Phone number, Address, Child's Name, Child's DOB
​
The Way We Use Information:
We use the information you provide about yourself to complete online registration and maintain contact information for in house communication. We do not share this information with outside parties. We use the given e-mail address as our main mode of communication regarding your dancer. Such addresses are not used for any other purpose and are not shared with outside parties. Finally, we never use or share the personally identifiable information provided to us online in ways unrelated to the ones described above without also providing you an opportunity to opt-out or otherwise prohibit such unrelated uses.
​
Our Commitment To Data Security:
To prevent unauthorized access, maintain data accuracy, and ensure the correct use of information, we have put in place appropriate physical, electronic, and managerial procedures to safeguard and secure the information we collect online.
​
Our Commitment To Children's Privacy:
Protecting the privacy of the very young is especially important. For that reason, we commit to keeping all information on your child secure and solely for the purpose of class registration.
​
How To Contact Us:
Should you have other questions or concerns about these privacy policies, please call us at (512) 670-0301 or send us an email at lonestardancecenter@gmail.com.
In order to cancel enrollment at anytime during the year, written notice must be received via email to info@lonestardance.com. We will schedule your dancer to be dropped from class 30 days from the notification date and you will be charged a prorated amount for the final month.
​
FREQUENTLY ASKED QUESTIONS
Which class is best for my dancer?
---
We are happy to point you in the right direction! For all ages 2.5 (and potty trained) through 6 we recommend starting with our combination classes. These classes have 30 minute sections of multiple styles combined into just one class per week, so it's a great way for your dancer to be introduced to the world of dance. These classes are geared towards beginners, or even 2nd or 3rd year dancers who are still exploring and fostering their love of dance. If your dancer is age 7+, however, you are also able to explore our specialty Intermediate classes and just pick one style. We recommend all dancers, even older beginners through age 11, to start with our Intermediate classes, even if you have previous dance experience. Your teacher will guide you to an upper level if it is too easy! Any dancer 12+ is welcome to try our Advanced Level classes. Level 1 is a great place to start if you are looking to try a new style or prep for upcoming drill and dance team tryouts. Many dancers will stay in the same level for 2, or even 3, years before moving onto the next level. If you aren't sure which dance style interests you the most, click here for a brief video that introduces a few of the styles we offer! Please view our full list of class descriptions here.
---
When do class sessions begin and end?
---
We follow the PfISD school schedule, and our classes run as a full Fall-Spring semester or a Summer Session. The 2017-2018 Fall-Spring session will run August 28th through June 9th, and we take off Labor Day, Thanksgiving week, December 25-January 5, Spring Break, Good Friday and Memorial Day. Our Summer session for 2018 will run June 18-August 17, 2018. We require a 30 day notice for your dancer to un-enroll.
---
How much does it cost?
---
Our tuition rates depend on how many hours your dancer takes per week and are due the first week of each month. Rates are the same whether your dancer's class occurs 4 or 5 times in a particular month. A $30 registration fee is required annually. There is an annual $90 fee per family is due in November to secure rentals for our spring recital, which takes place mid-June. Costume fees are due in mid-February and run $70-$90 per costume. Here are our current rates for the 2019-2020 season: 45 min: $63 1 hr: $84 1.5 hr: $118 2 hr: $147 2.5 hr: $173 3 hr: $190 3.5 hr: $204 4 hr: $210 4.5 hr: $217 5hr: $236 5.5 hr: $246 Unlimited (6 hours or more): $250
---
What does my dancer need for class?
---
For ballet classes we require pink tights, black leotards, pink ballet shoes and hair in a bun. For combination classes ages 2.5-11 we require tights and a leotard of any color. The shoes required depend on the style. Hip hop classes can wear any flat-soled tennis shoes, jazz classes should wear tan jazz shoes, ballet classes should wear pink ballet shoes, tap classes should wear black tap shoes, and lyrical classes will wear halfsoles or go barefoot if they prefer. For specialty classes (not including ballet) dancers can wear any movable clothing they can stretch and dance in with hair out of the face. Please watch this video for suggestions about how to pack your dancer's dance bag!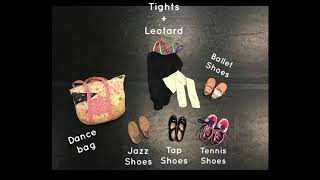 ---
How do I register?
---
You can register online by creating a parent portal here. You can also register by phone or in person during our office hours Monday through Thursday 4:30-7:30 or Friday 4:30-6 (we are not open on Fridays during Summer hours). If you have any questions about class please email us at lonestardancecenter@gmail.com.
---
What forms of payment do you take?
---
We can take cash, card or check during our office hours Monday through Thursday 4:30-7:30 or Fridays 4:30-6 (we are not open on Fridays during Summer hours). You can also sign up for Auto-Pay with a credit card or pay via PayPal in your online portal. Please note there is a 3% convenience fee for paying online.
---
---